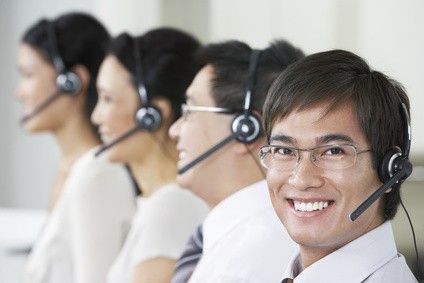 Cold calling is exactly what its name implies — an unsolicited call placed to an individual consumer or a business with the goal of selling the call's recipient goods or services.
Now, what's the difference between telemarketing and cold calling? Unlike cold calling where calls are always unsolicited, outbound telemarketing doesn't always involve making unsolicited calls. Sometimes, telemarketers contact people who've expressed an interest in a product or service by sharing their email address on a website or who have contacted a business directly in the past.
To better define telemarketing, it's helpful to consider the goal of telemarketing compared to cold calling. While both techniques are typically geared toward making sales at some point, telemarketing can be more broad-based in the sense that it may be intended to increase the awareness of your products or services. Even though the objectives of cold calling and telemarketing may differ at least on occasion, you can still use many of the cold calling tips that are available online to improve your telemarketing results.
Cold Calling Explained
Cold calling generally starts with an organization purchasing a list of high-quality sales leads from a reputable provider like TelephoneLists.Biz. You can customize the lists you buy from us using various factors, such as location, income, industry and marital status. By targeting your lists, you can identify the prospects who are most likely to have an interest in your goods or services.
Once you have your leads lists, you can import them into your CRM and start calling prospects. You can make notes about your calls and schedule follow-up calls as well. You can also update your contact records as necessary.
Before you start calling the people or businesses on your leads list, it's important for you to scrub it against the do not call list. You should make it a point to do this at least once, if not twice per year.
Is Cold Calling Effective?
Cold calling can benefit businesses in a variety of ways. The most important benefit is that it can move people along to more advanced stages of the sales funnel, ultimately leading to increased sales. In other words, cold calling can take a person from being a prospect to a qualified lead to a buyer of your goods or services.
Even if it doesn't lead to more sales, cold calling can make a greater number of people aware of your brand as well as the things you sell. It can also provide valuable insights into why consumers are or aren't buying your products or services. These insights may shed light on opportunities to change your marketing tactics, improve your goods or services or introduce new items in your product mix.
How Cold Calling Works
At TelephoneLists.Biz, we give businesses of all sizes the chance to purchase leads lists at affordable prices to find new customers. Our prices, the value of our lists, our user-friendly web portal, our lack of restrictions and the ability to buy bulk lists cost effectively are what set our business apart from our competitors.
To learn more about our services, we invite you to contact us today.