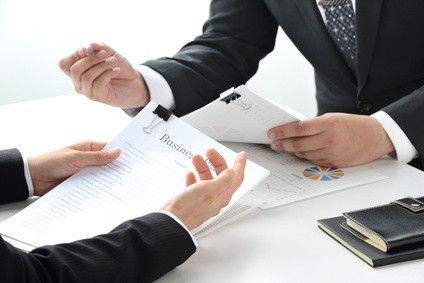 Professionals in marketing and sales are well-aware of the beef between them. In fact, 87 percent of responses from marketing and sales executives were negative when questioned about one another. For businesses, the feud is less than beneficial, costing companies a four percent decrease in their annual revenues, compared to the 20 percent boost businesses with aligned marketing and sales team receive.
Download A Free Sample
So, how do you align sales and marketing teams? Start with these seven steps:
Introduce Them
While related to one another, sales and marketing departments are often strangers. Their lack of communication is often credited for their disputes with one another, which is why it's essential you begin your alignment of the two by introducing them to each other. Hold a luncheon and invite both departments. Let them socialize and get to know each other on both a personal and business level. This step will help them as they move toward aligning their goals and collaborating throughout the year.
Link Their Goals to ROI
When you're looking for how to align your cold calling with your marketing division, consider the goals of the two. Sales and cold calling focus on meeting the numbers set for each year, quarter and month, while marketing's mission is less data-orientated. Change that — link the goals of your sales and marketing teams together. Both can concentrate on achieving a return on investment for your company. With identical purposes, the two can focus their energies toward the same goal and eliminate some of the competition between marketing and sales.
Define Lead Generation
Streamlining the goals of your marketing and sales departments requires developing a way to measure each team's lead generation. You will need to define the following:
Marketing Qualified Lead (MQL)
Sales Accepted Lead (SAL)
Sales Qualified Lead (SQL)
Companies that have aligned their sales and marketing teams with success recommend that your marketing defines the parameters of an MQL and that your sales determine the qualifications for a SAL and SQL. The two departments will then need to meet and review their definitions to ensure they agree on specific details, such as what is a good lead.
Assign a Team Representative
Their goal may be the same, but your marketing and sales teams are still separate. That's why it's essential to name one to two representatives from each department. These individuals will attend marketing meetings, sales meetings, etc. to ensure the two branches understand one another's needs, strategies and challenges.
Share Information
The process to align your sales and marketing teams can require encouragement. While their roles may differ, their goals are the same. This is why it's critical you ensure your marketing and sales branches are sharing information with one another. Marketing, for instance, should discuss the strategy and materials they're building, while sales should share how customers are responding to the current approach or how the new plan may not resonate with the targeted consumer base.
Align Focus to Sales Funnel
Like setting the standards for an MQL, SQL and SAL, your marketing and sales divisions will also need to align their definitions of each level of your company's sales funnel. A standard set of funnel levels may include the following, from the top to the bottom of the funnel:
Visits
Leads
MQL
SAL
Opportunities
Customers
Your teams may develop a different funnel to fit your business model — and that's fine. The important part is that both departments agree on the funnel's layout, as well as the details for each level. If your teams are struggling to compromise with one another, serve as a mediator.
Encourage Collaboration
The last step to align your sales and marketing teams is encouraging their collaboration. Promote the idea of the two departments holding meetings with one another to discuss target audiences, promotional materials, customer questions and more. Ensure your departments work with one another, too. With their collaboration, they can develop a comprehensive marketing and sales approach that converts prospects and generates the additional, 20 percent revenue that defines companies with aligned sales and marketing teams. At TelephoneLists.Biz, we're ready to help your company and its cohesive sales and marketing branches drive revenue. Our high-quality telephone lists provide your sales team with the leads they need to secure prospects. Whether you need business-to-business or business-to-consumer lists in the U.S. or Canada, you can find them here. Browse our available files,
view a free sample
or
contact us
for more information.